Help Reluctant Readers Enjoy Reading
Simple strategies for parents to engage reluctant readers and writers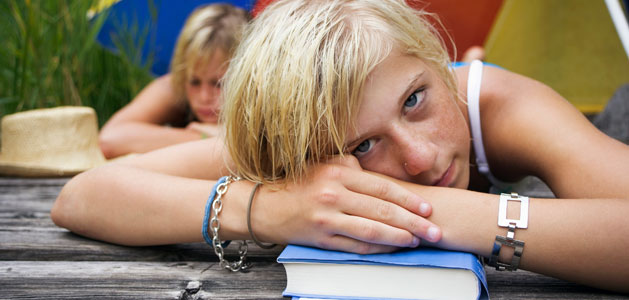 If the idea of your young reader picking up and devouring a book, article, or essay seems as likely as having them ask if there are any extra chores that need doing, you are not alone! Encouraging kids to read and write for pleasure can be difficult waters to navigate. Here are a few ideas that may help them get started.
Read with your child.
Don't underestimate the power of your presence and personal interest in a story. Kids love to talk and share their thoughts, but they are also interested in your opinions and questions about a story. Take turns reading a book, story, or article to each other and then talk about what you've read.
Discover new stories together.
Make weekly trips to the library or book store a part of your family's habits and rewards for a job well done. Share the joy of discovering new stories with your child.
Read everything.
Reading time doesn't need to be limited to assigned homework reading and the current novel on the nightstand. Newspapers, magazines, articles, instructions, comic books, recipes, blogs, even Twitter are great ways to help kids develop a robust vocabulary and expose them to various writing styles and formats.
All reading is good reading, so indulge your teen's interests by reading about their favorite boy band in a bubbly teen magazine or encourage them to make a sales pitch for the new phone they want by reading and discussing online reviews.
Revisit books and activities frequently.
Younger children often want to read a favorite book over and over, while adolescents and reluctant readers avoid rereading books and articles. The "already read it" reply we hear so often from these readers is key to what I refer to as the Carne Asada Fries Paradigm.>
Don't settle for the "already read it" excuse. The next time your reader begs you for another order of carne asada fries – a California delicacy available at any of our countless taco shops – answer with "You've already eaten carne asada fries, haven't you? There's no need to have THOSE again." (This technique works just as well with donuts, pizza, video games, and even their favorite water park.)
Most likely, your child will enthusiastically explain the benefits of reordering their favorite treats or riding their favorite roller coaster. You can then point out how people also derive pleasure from quoting lines from a favorite movie over and over, and even rereading a story.
Technology can help!
Many of us still associate reading with a printed book, though more and more people are reading on electronic devices. Beyond ordering and reading literature on an ipad or Kindle, digital tools can help you foster self-motivation and engagement with reluctant readers and writers.
Subscribe your child to news feeds.
Despite the multitude of complaints about today's apathetic youth, adolescents are interested in countless things. One of the coolest ways to get them reading non-fiction is to help them create an account that sends news feeds from their favorite authors, websites, stores, magazines, and recording artists.
Free websites like feedly.com make it simple to choose subjects you are interested in and receive a daily digital newspaper delivered to the device of your choosing. Your guidance in selecting appropriate content is essential, but kids are far more likely to check their news feeds if they helped select the content.
Don't discount audiobooks.
Audiobooks can be a great supplement and can help you improve reading! If your child really has to work hard to read, reward them from time to time with a talented narrator reading the story to them via a site like audible.com or iTunes. They can sit back and enjoy the story or follow along in a print copy of the book as they listen.
For many struggling readers, an initial pass through a story to identify the basics of the storyline followed by a second pass through the chapters can be a powerful tool against road blocks.
Pair reading with writing and making.
Retell or adapt what you are reading with pictures and voice narration using a program like Wixie. Take pictures of pages in a book or have your child illustrate a scene from a story they are reading. Then, have your child record their voice to retell or reflect on this part of the story.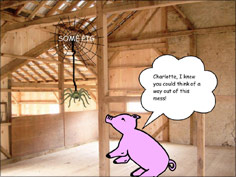 When students explore their reading by creating in interactive projects, they build confidence about their own understanding. If students are intimidated, you can start retelling with images. Once your child has illustrated a scene or moment of dialogue from the story, filling in the summary, description or thought bubbles that correspond to the imagery is much less intimidating.
Create your own library, and even your own ePubs and iBooks! Start with images from family vacations or special events, have your child add text, captions, and voice narration to create your own digital memory books.
Doing this together allows you to model voice modulation, pacing, inflection, and cadence for your student. Start by recording a passage yourself. Then have your child listen again and again and record on their own.
Capture and celebrate progress.
Multimedia authoring tools like Share can help you catalog, reflect, and celebrate the things your child has read and can help you easily document progress. Use authoring tools to create portfolios of your child's reading and writing samples.
Cataloging your student's reading in this way also serves as an acknowledgement of their hard work. Encourage a stroll down memory lane and revisit what has been read and created in a portfolio. Discuss how much you loved their old projects, and reflect together just how far they've come from projects that are just a few months old.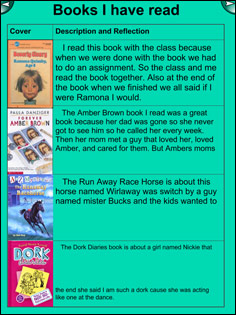 Applauding your child's effort is "money in the bank" with reluctant readers. The digital nature of portfolios also makes them easy to share. When you share, you demonstrate to your child your pride in their work.
Get started reading and creating with your child today!
Motivating kids to read and write can be a daunting task, especially with the feast of multimedia distractions online. But you don't have to work against the grain. Meet your child in their world and use multimedia tools to help them express, create, share, archive and revisit projects, activities, and stories for years to come.
Make the experience of reading and writing immersive and multi dimensional. Stubborn reader's and writer's block melt away like cheese atop that order of Carne Asada Fries!