Project-based learning is digital citizenship in action
Make student work authentic for maximum results
Digital citizenship curriculum is often focused on online safety and rules. Rarer are the programs that include authentic opportunities for students to act and reflect on their digital habits by creating and participating in something they care about.
A project-based approach to learning gives students' online communication and collaboration a purpose, making digital citizenship a natural part of daily teaching and learning.
In a project-based approach to learning, students are presented with a problem and must learn content, think critically, and practice a range of skills in order to develop solutions that address the issue.
Technology is essential for effective project-based learning
While successful PBL doesn't require the use of technology, not taking advantage of digital tools, when they support student effort is like walking one hundred miles to your destination when you have access to free transportation that would get you there in less time and with less effort; freeing you to accomplish even more.
In order to solve real problems and important issues in their community, digital tools become essential as students:
Complete research and collect data
Students can easily access current knowledge through virtual expert interviews and quality information collected in online journals and archives. Measurements and data collected in the field can be shared and analyzed with spreadsheets and digital graphs.
Communicate and collaborate with stakeholders
Digital tools make virtual communication possible as they surmount obstacles of travel and safety. With the help of collaborative digital documents, an iterative process can be established where ideas can be archived and timestamps on edits seen by all.
Design, deliver, and publicize solutions
Digital tools make it easy to create and publish products like brochures, videos, and apps. While individual students can create a poster by hand, a small team can use digital tools to design advertisements that can be both printed and distributed through email, social media, and web sites.
Start small
Switching to a PBL approach isn't a simple proposition. Project-based learning is a journey, not a destination and the most effective PBL is different every year because it reflects current events, current culture, and current student thinking and interest. This doesn't mean you can't take small steps to get started.
All English Language Arts classes read informational text and many classrooms already ask students to create posters to inform others or raise awareness.
Choose an issue together, conduct research, and use argument writing skills to craft letters that get people to change behavior or take action.
Change the audience at different grade levels to make student work appropriate for their level. For example:
Primary students can write a letter to their parents to change something at home.
Elementary students can write a letter to the Principal or Parent Teacher Association (PTA) to change something at school.
Middle grade students can write a letter to the School Board to change something at the district level.
High school students can write a letter to the City Council to change something in their community.
Identify a team to lead the way
Project-based learning is a powerful way to engage students in the curriculum and promote deep thinking. Choose a team of teachers to begin implementing authentic projects and project-based learning. This could be a team of instructional leaders who embrace change or a subject area whose standards or curriculum are changing anyway.
Civics is a natural place for student action in the community and Social Studies, in general, is ripe for a PBL approach inspired by big ideas:
Why do we have rules?
Who should lead?
How does where I live impact how I live?
Science is another powerful place for a project-based approach. The Next Generation Science Standards have attempted to move learning from getting students to memorize and understand scientific knowledge to thinking and acting like scientists. Students are often passionate about health and climate issues making it easier to get them to do the hard work necessary for PBL.
And yes, PBL is work for both teachers and students. In fact, many of your student high-performers will initially fight a project-based approach because they have learned how to succeed at doing more traditional forms of school work. Other students don't really want to think and would prefer you to provide the questions and directions every step of the way.
Be sure to choose a few resistors on your PBL leadership team as well. While this often presents a training challenge, these educators embrace change only when it makes a difference and will help you identify and overcome the obstacles necessary for successful implementation.
PBL produces the future citizens we need
PBL can help us empower the next generation to 'lean in' to quality research, hard work and critical analysis, communicating their ideas and solutions to not only make their voices heard, but make our world a better place.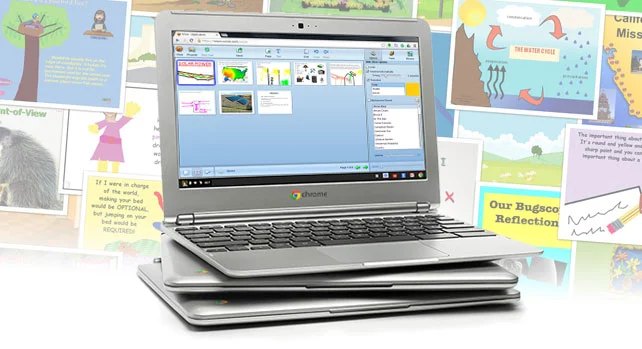 Getting Chromebooks?
Stay creative with Wixie!