Landing your First Teaching Job
6 steps to ending up in the right place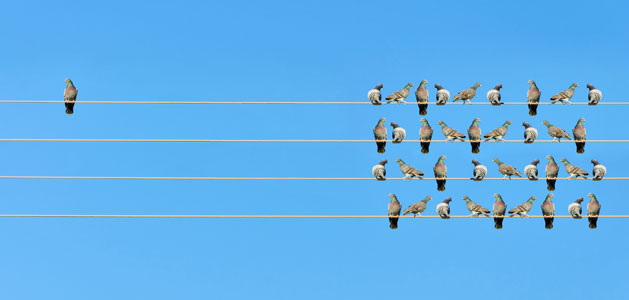 You've meticulously pushed through your undergraduate work, declared yourself in graduate school as a dedicated teacher candidate, and passed all your examinations for provisional licensure. You hear there are lots of openings for new teachers in nearby schools, so you send out your resume and the offers pour in. Well, not exactly.
While it requires more work, devoting time to each individual application you submit will pay off in the end. You want to be developing as a teacher in your first job, not be looking for a new job right away. Here are 7 steps you can take to land that first teaching position in a place where you will be happy teaching and the administration will be happy with your performance.
1. Do your research
Start with a careful read of the actual job description. If it still looks good, visit the school's web site to get a sense of the school and its culture and maybe even the role and strength of the PTA. Do a close reading of the school's mission, principal's letter, and teacher web pages to learn about the resources available to students and teachers and the types of activities and projects done at the school.
If the school has social media accounts, see what has been posted by both staff and parents of children who attend the school. Visit a site like greatschool.com to get a sense of demographics, test scores, and stakeholder views of the school.
2. Customize your resume.
While it certainly easier (and faster!) to simply blast the same resume to everyone, this approach does nothing to distinguish your application from all the others a site receives. Use what you learned from the job description and the school's website to specifically connect yourself and your skills to the needs of the position and mission of the school.
Begin your resume with quick "self-sales pitch" paragraph and adjust the order of your hobbies and interests to better match the culture of the school. Clarify the descriptions of your skills to demonstrate how they will meet the needs of learners at this particular site.
3. Craft a specific cover letter.
Not only do you need to include a cover letter, you need to customize it. You aren't likely to get a face-to-face interview unless there is something compelling in your cover letter. Once again reread the school's website and print collateral and make a case for what you can do to enhance their ongoing mission.
It may even be your non-educational experiences that set you apart. For example, if you are trained musician, you might be able to lead a group the school does not have currently. Perhaps you lived or studied abroad in the country of origin of many of the school's students, helping you connect their culture to the school.
4. Take your time with an online survey.
If your application made you stand out, you may be asked to complete an online survey. Don't just click through the questions with a quick agree or disagree. Yes, it is important to go with your gut to make sure you fit with the organization, but that doesn't mean you can't think about the questions.
Many online assessment surveys give you a chance to walk away or save your work as "in progress" before you submit. Take this opportunity! Write down questions you find confusing or challenging and talk with a mentor or advisor. Then write down your thoughts to clarify them before responding.
5. Deliver a great phone interview.
Online hiring systems, or even geographic distance, may mean you will also need to complete a phone interview. Begin your preparations by revisiting the school web site, especially the mission, programs, and student activities. Prepare a few questions to demonstrate you are familiar with the site, its community, and its culture. If the site hasn't given you questions ahead of time, head online to search for common interview questions.
On the phone interview, let the caller talk as much as possible. Respond slowly and clearly to their questions and have your credentials and references close by for referral. Ask relevant questions and use the content of their conversation to connect to your experience and the expertise you will bring to the position. At the end of the conversation, thank them for their time, share what a pleasure it was talking, ask specifically when and how you will hear about next steps, and let them know how you look forward to continuing the hiring process with them. Follow-up with an email that includes your thanks and restates your qualifications.
6. Show up ready for a video or face-to-face interview.
Prepare for a face-to-face, or video, interview, the same way you prepare for a phone interview. Even you are particularly telegenic and have a gregarious personality, your attire, hair, and general appearance need to be professional.
Find a friend and/or a video camera to practice, review, evaluate, and refine. Prepare and respond to questions you think you will be asked. Watching yourself on camera can help you reduce distracting hand gestures, tone down your response, and help you identify key ideas you want to share so you don't ramble on and on.
When the interview is happening, remember to keep breathing and slow down. Like a phone interview, the more you listen, the better off you will be. Not only will you feel less inclined to continue talking for the sake of talking, you will have more time to craft responses that speak to the needs and goals shared by the interviewer.
"To thine own self be true"
Throughout this process, if you begin finding that your application that does not reflect who you are day to day, or who you want to be in your own classroom, stop the process! While you may really want to get hired, you need to tell the truth.
Don't try to "psych" out the assessment or interviewer to pick those options that you think will rate well. If you answer questions based on what you think they want to hear, you may get the job, but it is likely to cause you to be unsuccessful at the site in the future. Even if all this extra work leads you only to realize that you are not the right teacher for this site, you will end up saving yourself the time it will take to repeat the process over again for a second teaching position.
Your application, cover letter, online survey, and interview are all opportunities. Taking the time o reflect, as you move up the stairway to your first job will help you get hired for who you are at a school that reflects your lifestyle and goals. So start your climb to a meaningful first teaching job hire.