Persuasive and Presidential Writing
Students will learn persuasive writing and presentation skills.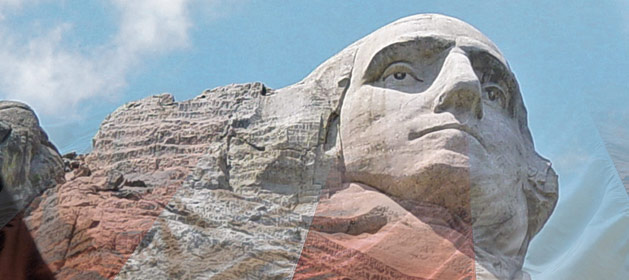 Task
Mt. Rushmore, sculpted between 1927 and 1941 by Gutzon Borglum with the assistance of over 400 local workers, is one of the most notable American treasures. But the mountain still has a bit more room! In this project, you will research a U.S. President and create a presentation to persuade the National Park Service to add another face to Mt. Rushmore.
Engage
Discuss the history of Mt. Rushmore with your students. You might want to use online resources such as the Oh, Ranger! Web page on the making of Mt. Rushmore.
As a class, discuss the qualities a president should posses to belong on Mt. Rushmore. You may want to begin with the qualities of the presidents who are already on the monument. Work together to develop a list of these qualities. Discuss which ones students think are most important and rank the qualities in order of importance. This will help students craft a strong argument.
Discuss with the students that they will research a president they feel has these qualities and should be added to Mt. Rushmore. This research will be used to write a persuasive argument for the addition of this president to Mt. Rushmore.
Give students some time to think about the president they think should be added. You may want to assign a bit of research about several lesser-known presidents before having them choose, or ask them to survey family and friends for their opinions.
Have students choose the president they think should be added to Mt. Rushmore. You might have them complete a KWL worksheet to help them identify what they already know about this president, as well as identify topics that they will need to research.
Create
The goal of persuasive writing is to convince others to agree with our facts, share our values, accept our argument and conclusions, and adopt our way of thinking. Discuss the elements of persuasive writing with your students. Let each student know that when writing his or her argument, he or she should:
Establish facts to support the argument for his or her president.
Clarify relevant values for the audience. Why should this president be chosen? How has this president helped society? What are his accomplishments? This should include factual information about accomplishments while in office.
Provide examples using pictures or other data.
Prioritize, edit, and sequence the facts and values in importance to build the argument.
Form and state conclusions to "persuade" the audience that their conclusions are based on agreed-upon facts and shared values.
Provide an emotional appeal for the argument.
Logically communicate the argument in the presentation.
Discuss the structure of the essay with your students. Explain that the topic sentence should be a position statement, such as "The New Mt. Rushmore should include President__________ because...". The rest of the first paragraph should state the three main arguments. Each of argument should be clarified in a supporting paragraph. The final paragraph should restate the position and include the most compelling parts of the argument.
Have each student use his or her research to write a persuasive essay about why his or her president should be carved alongside the four existing presidents on Mt. Rushmore. Have students share their rough drafts with another classmate before editing and submitting their finished written arguments.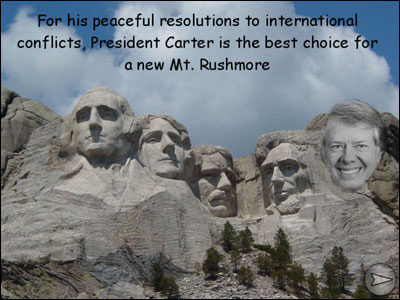 Once the essay is complete, students are ready to craft a persuasive presentation. To assist students in organizing the project, have them complete storyboards, highlighting the main ideas on each page. For example:
Page 1. Title Page
Page 2. Description
Page 3. Position Statement and Three Main arguments
Page 4. Argument 1
Page 5. Argument 2
Page 6. Argument 3
Page 7. Response to at Least One Counterargument
Page 8. Picture of This President Added to Mt. Rushmore
Page 9. Conclusion
Students can find pictures of Mt. Rushmore and each U.S. President in the Photos folder in the Library.
Share
Have students share their persuasive presentations with the rest of the class. You might have one student record characteristics and qualities from each presentation so that as a class you can compare the presidents.
Assessment
As you introduce this project to your students, the students will begin to brainstorm the qualities of a president who should be placed on Mt. Rushmore. You should be able to make an informal assessment on their knowledge about their ideas and realistic possibilities for additional choices for Mt. Rushmore.
During the Web-site-design portion of the lesson, you will evaluate their writing skills, creativity, design and planning skills, and more.
Resources
Bausum, Ann. Our Country's Presidents. ISBN: 0792293304.
St. George, Judith, & Small, David. So You Want to Be President? ISBN: 0399251529.
Oh, Ranger! Mount Rushmore http://www.ohranger.com/mount-rushmore/making-mount-rushmore
American Presidents americanpresidents.org
Standards
Common Core Anchor Standards for English Language Arts - Grade 5-12
Writing Standards
Types and Purposes
1. Write arguments to support claims in an analysis of substantive topics or texts, using valid reasoning and relevant and sufficient evidence.
Production and Distribution of Writing
4. Produce clear and coherent writing in which the development, organization, and style are appropriate to task, purpose, and audience.
6. Use technology, including the Internet, to produce and publish writing and to interact and collaborate with others.
Research to Build and Present Knowledge
7. Conduct short as well as more sustained research projects based on focused questions, demonstrating understanding of the subject under investigation.
NCSS—Time, Continuity, and Change
Students compare and contrast different stories of accounts about past events, people, places, or situations, identifying how they contribute to our understanding of the past.
ISTE: NETS for Students
1. Creativity and Innovation
Students demonstrate creative thinking, construct knowledge, and develop innovative products and processes using technology. Students:
b. create original works as a means of personal or group expression.
c. use models and simulations to explore complex systems and issues.
2. Communication and Collaboration
Students use digital media and environments to communicate and work collaboratively, including at a distance, to support individual learning and contribute to the learning of others. Students:
b. communicate information and ideas effectively to multiple audiences using a variety of media and formats.